Body Shop
The proper repair of collision damage is critical to the safety and performance of your vehicle. Each vehicle is repaired to factory specifications in our state-of-the-art collision repair facility.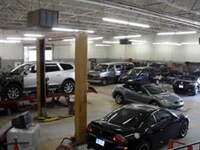 Our highly skilled technicians use only the highest quality equipment, parts, and materials.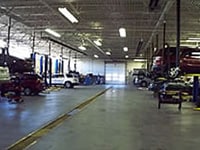 We utilize a Chief EZ Liner Frame Machine and Genesis Laser Measuring System. . These frame racks are capable of multiple pulls, this is critical in returning your vehicle to the original factory specifications. Certified technicians restore the integrity of the frame or unibody to the manufacturer's specifications.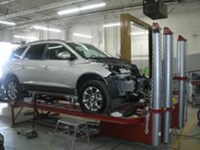 Sometimes mechanical components have been damaged or need to be removed to gain access to other damaged areas of your vehicle. We have all the necessary equipment to handle these mechanical repairs.
Paint Shop
When it comes to automobiles, you can judge a car by its cover! That's why we use state-of-the-art painting systems. Today's modern factory finishes incorporate multiple layers of highly specialized paints.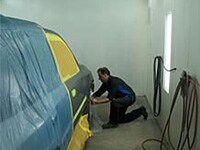 The paint system that we utilize is constantly upgraded. It is the best technology available to ensure that each vehicle's finish matches.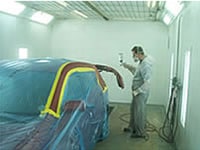 We match your vehicles finish in our paint mixing area. After selecting the correct color, we then prepare your vehicle for paint by sanding and applying primer and sealer.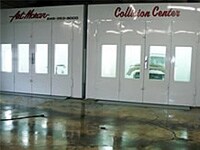 After painting and applying clear coat, your vehicle is baked to give the paint durability and a high gloss that will last for the life of your vehicle. Your vehicle's paint is then inspected and buffed to meet our quality standard.
Shop Office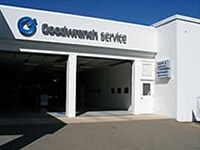 Here at our office, we offer you:
We are conveniently located on site of the Art Moran Dealership
Key drop for early morning and late evening drop-off.
Courtesy transportation within local area.
We offer free pick up and delivery to better convenience our customers.
We want your accident to be as painless as possible.
We want to take the time with each client to answer all questions and find out how we might help you best.
Convenient free estimates here at our facilities.
24 hour towing.
Written lifetime warranty on all repairs.
Laser measuring system.
Meet Our Team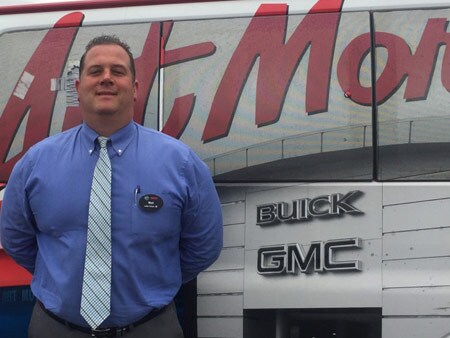 Matthew Kocan
Manager
mkocan@artmoran.com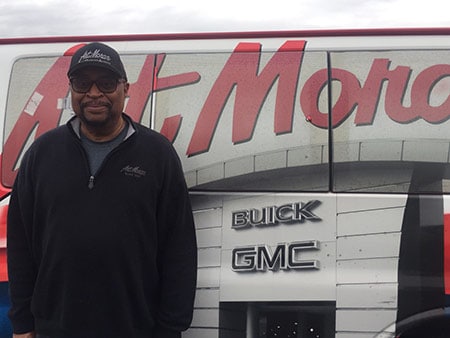 Bill Pittman
Estimator
bpittman@artmoran.com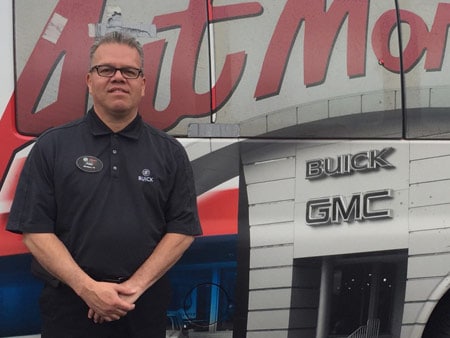 Felix Quintanilla
Estimator
fquintanilla@artmoran.com
Frequenly Asked Questions
WHERE DO I GET A CLAIM NUMBER?
Claim numbers are issued by your insurance company at the time you report your accident. Just jot it down and bring it in with you when you come in to begin the repair process, we will do the rest.
WILL THE PARTS BE ORDERED BEFORE I DROP OFF MY VEHICLE FOR REPAIR?
Absolutely. We generally order your vehicle's parts at the time that we write the estimate and schedule your vehicle for drop-off a couple of days later unless your vehicle is found unsafe to drive, then we would help you arrange for a rental vehicle as soon as possible. This enables us to provide quicker turnaround time.
IF MY VEHICLE'S FRAME IS DAMAGED IS IT A TOTAL LOSS?
No. A car is a total loss only when the price of repairs exceeds the insurance company's determined value of your vehicle. Nowadays, most cars are built using unibody (frame and body as one) construction. Our highly skilled technicians, with the aid of our state-of the-art computer measuring system , can return your vehicle to its original factory specifications. If it is determined that the frame section is bent beyond repair, that section can simply be replaced.
CAN YOU MATCH THE PAINT COLOR?
Today's modern factory finishes incorporate multiple layers of highly specialized paints. We have made a major investment in the finest paint system available and constantly upgrades its technology and equipment to ensure that each vehicle's paint matches. We take special pride in our ability to match factory finishes as the final step in the restoration process.
CAN I GET OTHER SERVICE WORK DONE ON MY VEHICLE WHILE IT IS IN THE BODY SHOP?
Yes. Just let your advisor know what other work you would like done so that he or she can make the necessary arrangements.
HOW LONG WILL THE REPAIRS TO MY VEHICLE TAKE?
Your advisor can give you an estimate of the time it will take to complete the repairs to your vehicle. Be sure to check with your advisor for the specifics on your vehicle.
CAN I GET A RIDE HOME WHEN I DROP OFF MY CAR?
Yes, we would be happy to provide this service to you. We want each customer's visit to be a positive experience and will work diligently towards that goal. We provide a pickup and delivery service.
HOW CAN I GET A RENTAL CAR?
If you need a rental car, we can help you make the necessary arrangements. Insurance companies will only pay for a rental car if you have that option on your policy or if you are the claimant. Check your policy and/or call your insurance company to find out if you have rental coverage and what your specific limitations are.
HOW WILL I KNOW WHEN MY CAR IS DONE?
You will be notified when your vehicle is ready to be picked up. You can also check this website. You will see a message next to the last picture of your vehicle telling you that your vehicle is ready to be picked up. Feel free to call or e-mail your advisor during the repair process if you have questions or concerns.
IS THERE A WARRANTY ON THE REPAIRS TO MY VEHICLE?
Yes. We guarantee all repairs with a Lifetime Warranty.
DO I HAVE TO PAY A DEDUCTIBLE?
The amount of deductible that you will be responsible for is determined by your insurance policy. If you aren't sure about your deductible, you can call your insurance agent.
WHO DO I PAY MY DEDUCTIBLE TO?
It will be your responsibility to pay us when you pick up your vehicle. If you aren't sure about your deductible, you can call your insurance agent.
WHAT FORMS OF PAYMENT DO YOU ACCEPT?
The easiest and most convenient way to pay for your portion of the repairs to your vehicle is with a major credit card. We accept Visa, MasterCard, & Discover. Of course, cash is always welcome.
WHAT ARE BETTERMENT CHARGES?
Parts that wear out and need replacement with time and use (i.e., tires, batteries, and suspension parts) are commonly subject to betterment charges when they are replaced during the repair process. These betterment charges are determined by your insurance company and are pro-rated based on actual miles on your vehicle.
RECOMMENDATIONS AND PRECAUTIONS IN THE FIRST 30 DAYS
DO · Wash the vehicle by hand with cool water and a very mild car wash solution using a soft cloth or sponge. · Always use clean fresh water. · Wash your vehicle in the shade
DON'T · Do not use a commercial car wash. Stiff brushes or sponges could mar the finish and damage the surface. · Do not "dry wipe" your vehicle. Dry wiping can scratch the finish. · Do not drive on gravel roads. Chipping the finish is easily done in the first 30 days. · Avoid parking under trees and utility lines which are likely to attract birds. Bird droppings have a high acid content and will damage a freshly painted surface. Also, tree sap can mar or spot a freshly painted surface. · Do not spill gasoline, oil, antifreeze, transmission fluid, or windshield solvent on the new finish. · Do not scrape ice or snow from the newly painted surface.
RECOMMENDATIONS AND PRECAUTIONS IN THE FIRST 90 DAYS
DON'T · Do not wax or polish the vehicle. This will allow the finish to dry and harden completely.